Annunci
trova, compra
Mercedes SLS AMG
Automobili
visto 1071 volte
annuncio inserito il 20 Febbraio 2021
Prezzo
Riservato
Anno di Immatricolazione
2010
Km percorsi
9700
Dove si trova
Brescia
stato annuncio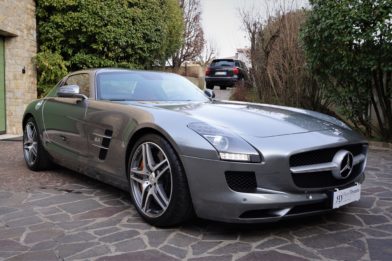 Chiedi informazioni per questo annuncio
descrizione
A Brief History on the SLS AMG
The Mercedes SLS was the first car to be developed entirely in house by AMG from the ground up. Mercedes gave their engineers an opportunity to live out their automotive fantasies without any restrictions starting from a blank sheet of paper, and a full 37 months later the SLS was born. This was AMG's opportunity to shy away from the all too familiar big engine executive saloon car recipe and compete with the likes of the Ferrari 599 GTB and later the Ferrari F12 Berlinetta as an out and out super GT car.
Unveiled at the 2009 Frankfurt Motor Show, the SLS was seen as a spiritual successor to the legendary 1954 300 SL Gullwing featuring the iconic gullwing doors for the first time in over half a century. The retro styling of the SLS AMG was something that instantly caught the imagination with its fantastically long bonnet and set rear cabin which made you feel like you are sitting on the rear axle, so there was a sense very early on that this was going to be a future classic.c
Whilst the gullwing doors may have been the eye-catching attention grabber, the real star of the show was it's 6.2 Litre naturally aspirated V8 engine. Producing 563 bhp and 479 lb ft of torque, Mercedes claimed it was the world's most powerful naturally aspirated production series engine ever made at the time. More than 120 different parts were used in the SLS engine to differentiate it from the other 6.2 Litre AMG engines with all this power transferred through an AMG SPEEDSHIFT 7-speed dual-clutch semi-automatic gearbox which was connected to the engine through a lightweight carbon fibre driveshaft. The V8 bellow to this day is one of the best sounding engines in history, made all the more important by the industry's move since then towards downsized turbocharged engines.
Over the following 5 years Mercedes updated the SLS range with further variants and special editions before production finally ended in 2014 and the SLS was replaced in 2015 with the AMG GT.
This is one of the best car on the market, with only one owner
Our car is equipped with an high level of options, we found the optional extras to be very important on the SLS with the higher spec examples proving both more valuable and easier to sell.
 Bang & Olufsen surround system AMG
AMG  high performance ceramic composit brakes
Carbon fibre interior trim
AMG Ride control
Himalayas grey middle – metallic
Carbon fibre engine bay
heated seats
AMG red leather nappa
rear camera
fire extinuisher
AMG 19″ wheels